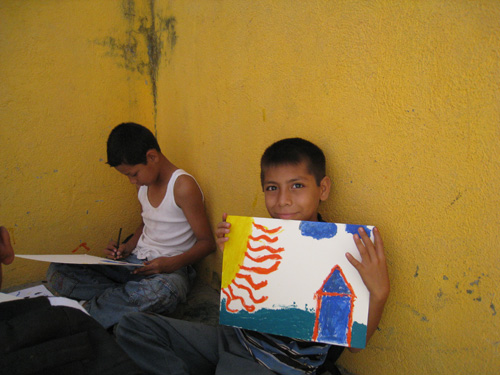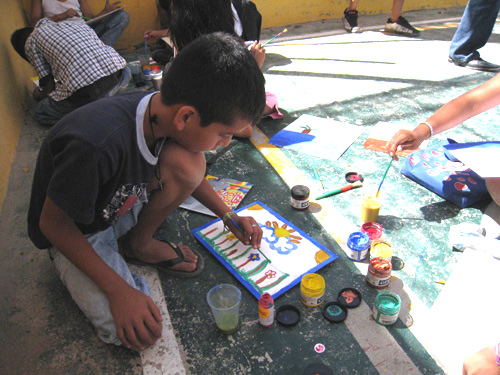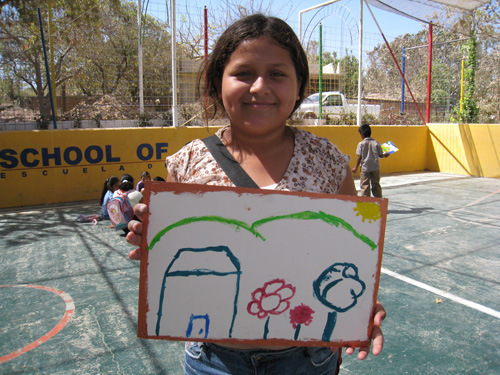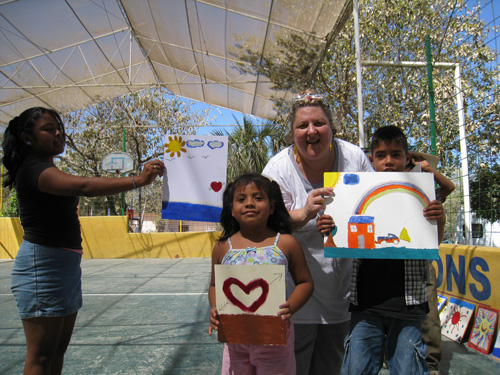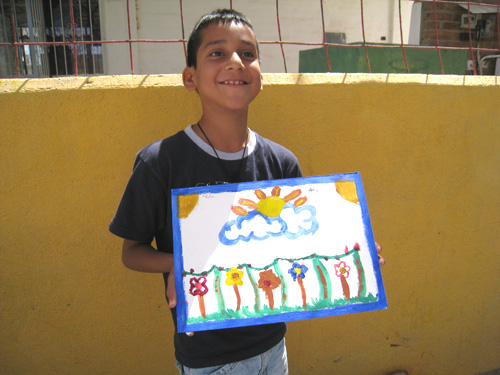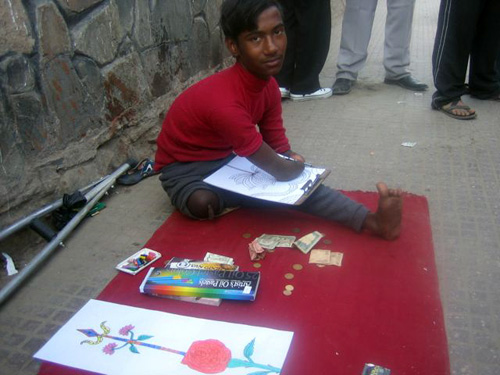 Giving Back
"Art Whirled Around the World"
My Sweetest Day
As usual, when someone is not punctual, I start to panic whether I'm the one who screwed up the time and place.
"Maybe this was a sign not to get into a stranger's car, and be taken to who knows where in the back roads of Puerto Vallarta", I thought to myself when Miguel was running 30 minutes late to pick me up from in front my hotel.
"How do I get the gumption to follow up with these kooky notions of bringing art supplies to kids where I don't even know the language?" I mumble to myself, as the bell boy asks me a second time. "Don't I need any help", with the twelve travel worn boxes blocking the entry to his lobby.
"For heaven sakes, I'm on vacation in Mexico! I'm suppose to have my feet up by the pool, with my attention on my self reflective "completion" journal! What am I doing waiting for a man I have never met?"
Two months earlier, I didn't even have a place where to bring the supplies once I had them.
But once I was told about a program called "The Children of the Dumps", by a kind Alaska Airlines travel agent, I knew I was on my way.
With the help of my friends, family, dentist, art students, local art stores and framers, I was able to assemble several boxes of art supplies, school supplies, and even 400 tooth brushes to bring to some very worthy children.
When I finally met Miguel's smile, and saw how excitingly he loaded his dusty jeep with all the boxes of paints, brushes, basket balls and colored pens; I trusted I was plenty safe.
We drove to the outside parameters of the city, to the mounds of garbage the local kids scavenge for food and tin. But now, through the dedication of the "School of Champions", as is written on the walls, the children are feed, clothed and educated.
I was told it was the first time some of them had ever painted.
Short of the day I got married, it was the sweetest experience of my life.
~~~~~~~~~~~~~~~~~~~~
Since that adventure in April 2008, I have given up cynicism and doubting that I can make a difference. My vision is to have sustainable art huts for kids around the world. By June 2009, I will commit to have a fiscal sponsor for my non profit, "Art Whirled Around The World" and will invite to more people to bring more supplies to kids everywhere.
In winter of 2008 I signed up for a seminar facilitated in Puerto Vallarta.
I imagined it would be pretty much the way most tourist destinations are with a strip of elegant foreign owned hotels, nice restaurants with fancy shops fully prepared to take our plastic credit cards in exchange for some local glamour.
On vacation, I prefer to escape the safe and sterile gated enclaves for the hustle and bustle of the local reality, so I imagine myself exploring the local street markets, galleries and artisans as well.
But about 6 weeks before I departed for this trip to Mexico, I began to contemplate what kind of art programs are there for kids in Mexico?
I wondered if it was a similar situation to that of the US, where usually just the private schools have art classes, but the public schools have few if any to offer.
Unencumbered by how and where I would get stuff to take down there I decided to include bringing some art supplies to a place that really needed them. That is how I discovered the Children of the Dumps and The School of Champions.
What I learned about myself is that I may be shy to ask for things for myself, but I am an excellent beggar on behalf of contributing to others. Bring it on!
Acknowledgements
Thank you Dad for taking me to the Airport, thank you to my Parents for always being enrolled in my notions and dreams. Thank you Mahmut at Richard Sumner Gallery and Jeff at Brush&Palette for your extra mat boards. Thank you Gloria at University Art Store in Palo Alto, and the manager at the Blick art store in San Francisco. Thank you to my cousin Dorika for picking up the stuff from the city. Thank you Aurtu Krakower for the donation to the program. Thank you to my art collector and dentist, Bob Iverson my friends at Jazz Pharmaceuticals who generously donated toothbrushes and basketballs and the like. Thank you Philip and Kim for checking in a box on the plane with you. And special thanks to my friend Bruce who was visiting from London, who held my hand when I made my first call to an art store asking for art supply donations. It went better then I thought.
The Value of Art Supplies
Dear Andrea,
It's Maggie, from Nepal. I just wanted to send you a note of thanks. We spent the entire weekend making art using our new fancy pastels and water color paints. I'll have to send you some art in San Fran. It's beautiful what they made. Thank you again for sending your supplies over here with us.
I also wanted to tell you that I passed on two packs of colors to a boy in kathmandu that was on the side of the road making art and selling it- but he had no hands so he was drawing with just his wrists. He amazed me and I thought it would help him to sell more with some colors so I passed some of your supplies to him too.
I attached a picture of him and the pictures he made here. (see photo on left)
I hope you're well. It was such a pleasure to meet you at the summit. All my love from Nepal,
Maggie