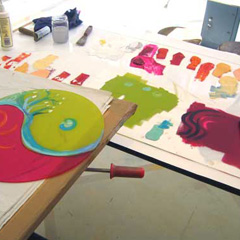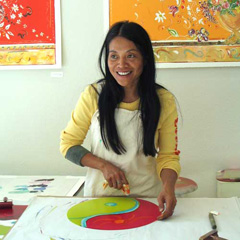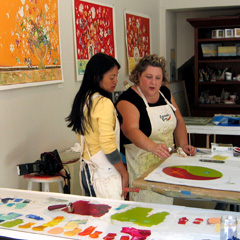 Lessons
"My Mom calls it better than therapy! She says that is because you can nurture your creative soul, have fun with Andrea and she does all the clean up too!" - A. Fono
Discover monoprint painting with artist Andrea Fono. In an inviting, private studio, Fono will walk you through the simple, unique painting process that produces surprisingly beautiful results and ignites the creativity in artist at all levels.
With humor and joy,Fono will share techniques from her twenty years of experience. For your lesson, she will supply all paints, tools, aprons, and enthusiasm needed to play freely and make an expression of your artistic spirit.
GROUP WORKSHOP AND PLAY
Celebrate your family and friends' creative spirits with this introduction to monoprint. In three hours, everyone makes 1 to 4 original pieces of art.
2 to 4 people minimum recommended per art party.
$180 per person for 3 to 4 hours of play.
$50 for each additional hour.
INDIVIDUAL LESSON
In-depth personalized instruction geared toward your artistic technical development. Get the support you need to make the art of your dreams. I mix a a special batch of colors for your individualized palette made up of all your favorite colors...then you have endless time to discover and create a body of work. You can create art for a particular destination in your home or just for your hearts content. *This is a treat of a lifetime!
$260 for 3 hour mono-print experience
$320 for 4 hour experience
$480 for 6 hours experience
CORPORATE CREATIVITY FIELD TRIP
Foster innovative thinking in the workplace. Discover and enjoy each team member's unique creative process through playing and learning monoprint. Team-building and communication are strengthened while having fun.
Put your company's purpose in another dimension. Companies such as the Wall Street Journal and Microsoft have painted with Andrea Fono and have experienced the inspired productive value of releasing their teams into fun and playful art exercises.
3 hours, 2-10 people at art studio.
One-hour, half-day, or full-day programs are available.
Also available: On-site ninety-minute Art Experience for 10 to 50 people.
Snack or picnic can be catered upon request.
Please contact me for more information.
MONOPRINT INTENSIVE
The best day you will ever have! Delve deeper into your creativity to develop a portfolio, art series, or large-scale work. Professional monoprinter Andrea Fono will print, prep, encourage, and teach technique to speed your art vision into fruition.
9am - 5pm
Hour break for lunch.
$575 for the day.
INSPIRATION CONSULTING
Learn how to be a satisfied and successful artist through artist mentoring and marketing advice. Please contact me and we can create a 4 to 6 hour series of courses that would be a true investment in your creative heart.
$800 for six tutorials.
LESSONS INCLUDE
Lessons include lithography inks, rags, paints, brushes, and all the nurturing money can buy. Material cost: Stonehenge Paper (22" x 30" or 31" x 44") pieces available for purchase per need basis.
SCHEDULE
Private or group classes are individually scheduled for your convenience. Please call 650-868-4171 to make an appointment.
APPLAUSE & PRESS
Click here to read testimonials on our applause page!